This free printable Halloween bingo game is a great way to add some spooky fun at your Halloween party or class get together!
Free printable Halloween bingo game
Halloween Bingo is an exciting twist on the classic Bingo game that adds a spooktacular element to your next home party or classroom party! It's also the perfect game for all ages, from kindergarten all the way up to adults. The pure anticipation (for kids and adults) waiting on that time to shout "Bingo!" is something we all love.
How to play Halloween bingo
Playing the game is pretty straight forward and easy!
Print the cards below and pass them out to all participants
Pass out bingo markers (see some fun ideas below!)
Keep the main icon card so you can callout each item
Each player can immediately mark the free spot
The caller calls out different icons one at a time, if the player has that icon on their card they can mark it off
Once a player has 5 in a row (horizontal, vertical or diagonal) they win!
Once a winner is chosen you can keep going for another or start the game over
What's Included:
24 half page bingo cards all with different icon placement
Main icon list for the game caller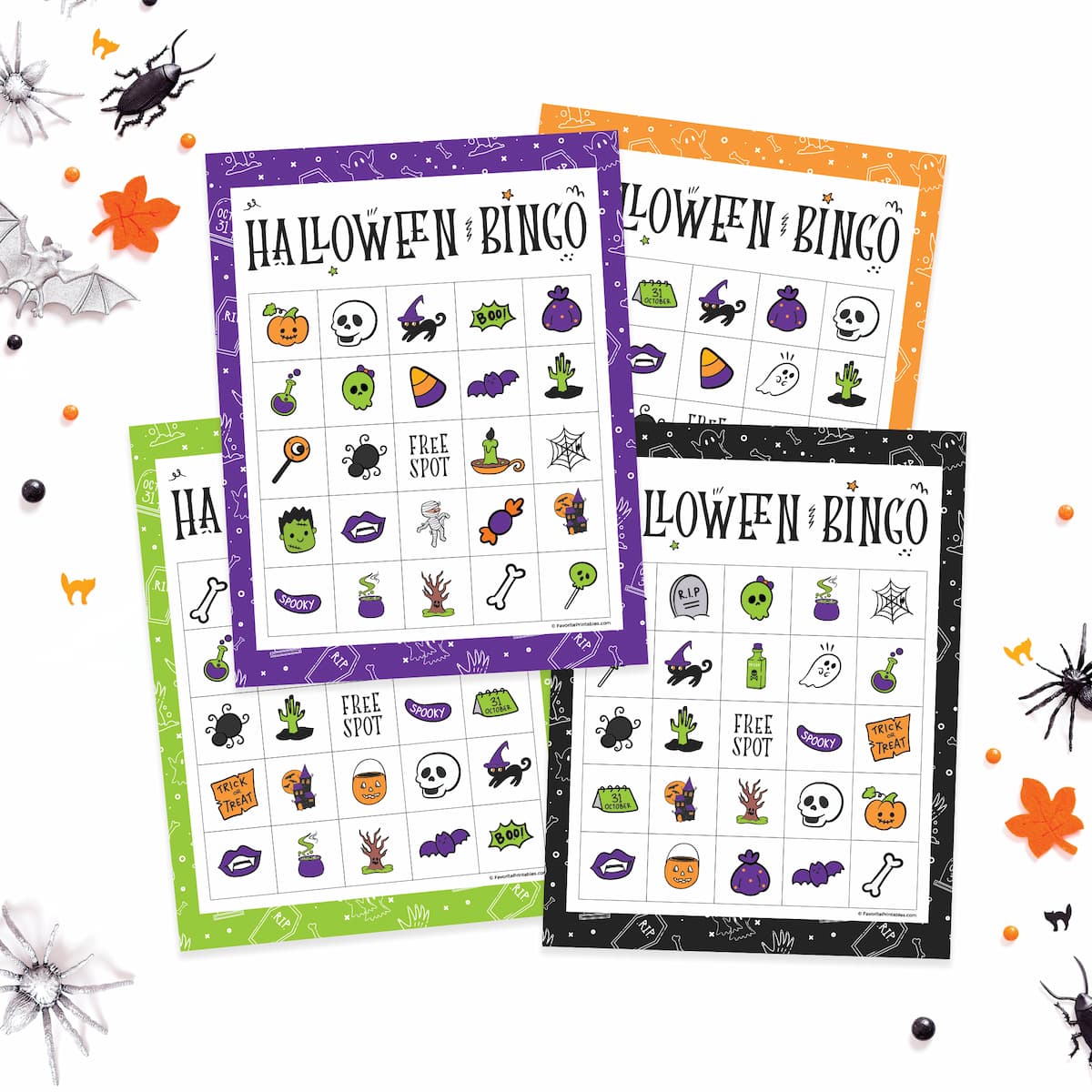 How to use your bingo game
This printable is super easy to use and great for the classroom or at home for some added fun at your next party.
Print out your bingo cards
Simply open the PDF below and print off all the pages., each page includes two bingo cards on it for a total of 24 cards, as well as one primary icon list.
Once you've printed you'll want to cut out the cards and laminate them (to make them easy to reuse) or use as is, it's completely up to you!
Bingo game markers
There are tons of items you can use to mark the bingo cards, below are just a few Halloween themed ones I recommend that the kids can eat after!
Halloween themed skittles
Hot Tamales
Tootsie rolls
Popcorn
Supplies Needed:
Below are the supplies I recommend to get the best out of your new printable!
What are the benefits of a bingo games for kids?
Bingo games can be a fun and educational activity for kids!
These games can help improve concentration, number recognition, social skills, memory, and provide a fun learning experience. Playing bingo can be a great activity for kids that combine both entertainment and education.
They are also great for parties and events because they're easy to play and really get the guests involved and interacting with the host and each other!
Get the FREE printable Halloween bingo game
Ready to print your free Halloween bingo? Use the buttons below to grab your free printable and enjoy!
If you have any issues or questions please check our FAQ page for troubleshooting tips!
More free printables you'll love!
Download your printable Halloween bingo!
Click the download link below for your immediate PDF download!