Kid's Daily Routine Chart
If you have a little one, this kid's daily routine chart is absolutely perfect to help keep them organized in their daily chores while also having fun! You'll find both the free printable as well as plenty of ideas for the daily routine chart by age!
Free printable kid's daily routine chart
Kids are visual creatures, we know that, and they typically won't pay attention to something unless it's right in their face! At least my kids won't. Which is why visual chore charts and tasks lists are so fantastic! Like our rainbow reward chart which is a great way for little ones to earn rewards for completing tasks!
Reward charts have always been our go to for extra things they accomplish, however, we really needed something for those daily tasks that they should be completing each day as part of the family. These aren't things they get extra for, these are things they do as part of the family unit.
My oldest especially struggles hard with her daily tasks, even though they have been the same things for two years, each day we still "forget" and are rushing to do them at the worst times (typically at bedtime). I needed to find a better solution than arguing and yelling!
Tiktok can be a real time sucker, BUT, it can also be a great place to find ideas and parenting hacks you may have never thought of! And that is exactly what happened here.
This idea was actually shared as a bedtime routine, which I think is fantastic for little ones, but I wanted it for more than that. I wanted to recreate it for my own children who struggle with maintaining their daily tasks that go beyond bedtime.
Ideas for daily routine chore chart by age
Whether you have a little one who struggles with the basics at bedtime such as brushing their teeth and taking a bath, to an older child who struggles with feeding the pets and taking out the garbage. This is a fantastic solution for all ages!
Routines for kids ages 2-5
For the younger ones you may want to keep it simple and make the tasks easy to follow (this age is great to use the chart for bedtime routines!). A few ideas for this age:
Brush their teeth
Drink a glass of water
Read a bedtime story
Go potty before bed
Kiss/hug mom and dad goodnight
Put on pajamas
Pickup toys
Routines for kids ages 6-9
For the older(ish) kids you can start implementing more in-depth tasks that they can tackle throughout the day. A few ideas for this age:
Take out the trash or recycling
Feed the family dog or cat (or fish)
Do their homework
Pickup their room
Make up their bed
Put away laundry
Water the house plants
Read a book
Routines for pre-teens and teenagers
This is the tricky age, they're capable of most things but lack the brain power some days to remember it all! A few ideas for this age:
Put away laundry
Do their homework
Water the houseplants
Vacuum the floors (this can be a weekly thing)
Help put away groceries
Do the dishes
Check the mail
Clean the cat box
Wipe down the kitchen counter
Make their bed
Sweep or mop the floors
What's Included:
8.5×11 "My Daily Tasks" fillable PDF template
8.5×11 back template
Set of 35 printable icons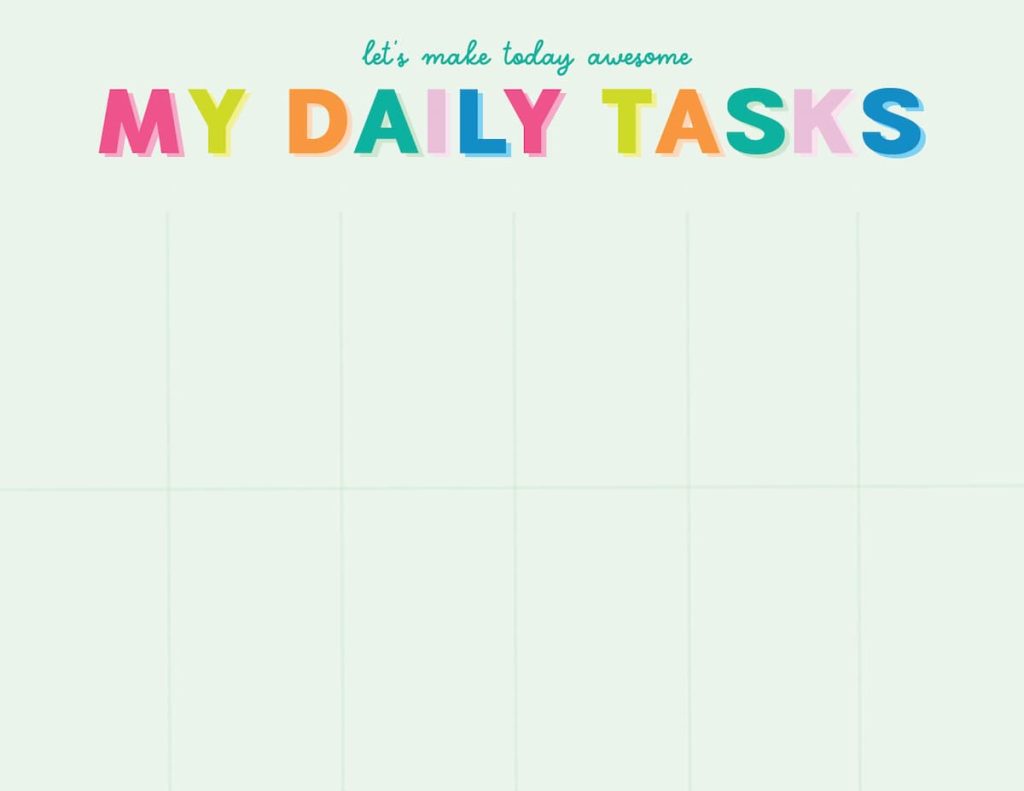 Supplies Needed:
Below are the supplies I recommend to get the best out of your new printable!
How to use your routine chart
There are quite a few steps with this one to make it work correctly, so you'll want to make sure to follow them in order to get the most out of your printable!
Step 1 – Edit the PDF
This PDF (page 1) is a fillable PDF which means you can add your own text into the chore sections so it's setup according to your child, because let's face it, every household is different!
One you open the PDF you will want to fill out your content, I have sections in both the top and bottom fields if you want to use them. Otherwise I recommend just editing the bottom fields.
Step 2 – Print your PDF
After you have filled out your PDF you will want to print it! This needs to be double sided so for most printers you'll need to run a two step process.
Print page 1 (the front PDF you filled out)
Turn page over, reinsert it into your printer, and print page 2 (the back with "Done" on it)
Step 3 – Add your chart icons
If you choose not to use the icon set included you can skip this step.
If you do want to use the icons you'll want to print out the PDF for those and cut out the icons you want to include in your chart. One you've cut out the icons you want you can use glue to glue them to the top!
Step 4 – Assemble your chart
Once you have everything setup the next step is assembly! This part is easier than it looks, I promise!
First you will want to cut along the dotted lines in the printable so each task is it's own slit. This will allow your child to fold up each one as they finish.
Once you've cut each slit you will want to fold them in half, along the dotted line provided, so that the "Done" shows at the front when folded.
After everything is folded you will want to add your magnets! The magnets should be added to the bottom of the tab and the top so that they connect together when your child folds the task. To make it easy you can lay them on the top and bottom, fold the tab to make sure they connect and then attach the magnet in place.
Step 4 – Hang your chart
You've got everything assembled, now it's time to find the perfect home for it! I recommend putting it somewhere you and your child will see every day. If this is a chart that covers more daily task items you may want to put it near the kitchen or hallway so it's easily visible.
If your chart covers more night time routines you may want to place it inside your child's room by the doorway. I don't recommend on the door because, well, kids slam doors!
And that's it! Your child is ready to start marking off their task each day!
Customizeable Canva Template
Buy My Daily Task Canva Template!
Want even more customization options? Download our fully customizable Canva template, perfect for those who want more flexibility and design options!
Just want the free option? No worries, keep scrolling!
Get the FREE daily reward chart printable
Ready to print your free daily reward chart? Use the buttons below to grab your free printable and enjoy!
If you have any issues or questions please check our FAQ page for troubleshooting tips!
More free printables you'll love!
Download your printable daily task chart!
Click the download link below for your immediate PDF download!